Coworking desk (workstation)
Workstation 1 person 2 hours
2.900 Ft
Workstation 1 person 5 hours
3.700 Ft
Workstation 1 person for a full day
4.900 Ft
Coworking desk DISCOUNTS
Workstation 1 person 5 x 5 hour (5 * half days)
10.700 Ft
Workstation 1 person 5 x 12 hours (5 full days)
13.700 Ft
Workstation 1 person 3 days
10.000 Ft
Workstation 1 person 5 days
15.700 Ft
Workstation 1 person 10 days
27.500 Ft
Workstation 1 person 15 days
33.700 Ft
Workstation 1 person 20 days
35.700 Ft
Coworking desk discounts MONTHLY PASS
Workstation – 1 person 12 months
(*12 months with prepayment)
29.500 Ft / month *
Workstation – 1 person 6 months
(*6 months with prepayment)
35.500 Ft / month *
Workstation – 1 person 1 month
39.500 Ft / month
Coaching (therapy room), max 2 person, without discounts (check our discounted prices!)
Coaching room
2.300 Ft / hour
Coaching room
3.200 Ft / 1.5 hours
Coaching room
4.100 Ft / 2 hours
Coaching (therapy room), max 2 person with DISCOUNTS
5 hour / in 2 weeks
10.000 Ft
10 hour / in 5 weeks
18.500 Ft
20 hour / in 7 weeks
35.500 Ft
30 hour / in 10 weeks
48.000 Ft
Meeting room (with big desk / mobile compact desk)
Meeting room rental – up to 4 person
4.000 Ft / hour
Meeting room rental – up to 6 person
5.000 Ft / hour
Meeting room rental – up to 12 person
6.000 Ft / hour
Meeting room rental – up to 16 person
8.000 Ft / hour
Meeting room with DISCOUNTS
1 month contract
5% discount
3 month contract
10% discount
6 month contract
15% discount
1 year contract
20% discount
Unlimited coffee, tea, mineral water for an extra charge of 25%
Catering service from a third party to be agreed on
Training (therapy room)
Training (therapy room) – 4 person
4.000 Ft / hour
Training (therapy room) – 6 person
5.000 Ft / hour
Training (therapy room) – 10 person
6.000 Ft / hour
Training (therapy room) – 16 person
8.000 Ft / hour
Office space rental / months (w/o VAT)
+ 82 sqm shared space
Irodarész – 6

Workstation

(3 hours in the meeting room / month)

185 000 Ft
+ utilities
+ cleaning
+ other optional services
Office space – 6 Workstations

(3 hours in the meeting room / month)

205 000 Ft
+ utilities
+ cleaning
+ other optional services
Office space – 6 Workstations

(Everything included: unlimited meeting room usage, internet, utilities, cleaning, full office)

275 000 Ft
Office space – 6 Workstations

(Everything included: unlimited meeting room usage, internet, utilities, cleaning, full office)

255 000 Ft
Office space – 10 Workstations

(4 hours in the meeting room / hó)

255 000 Ft
+ utilities
+ cleaning
+ other optional services
Office space – 10 Workstations

(Everything included: unlimited meeting room usage, internet, utilities, cleaning, full office)

355 000 Ft


Office space – 12 Workstations


(Everything included: unlimited meeting room usage, internet, utilities, cleaning, full office)




RENTED


375.000 Ft




Office space – 4 Workstations


(Everything included: unlimited meeting room usage, internet, utilities, cleaning, full office)




RENTED


185.000 Ft


*All prices are exempt VAT, and are valid until updated
Important information for the rental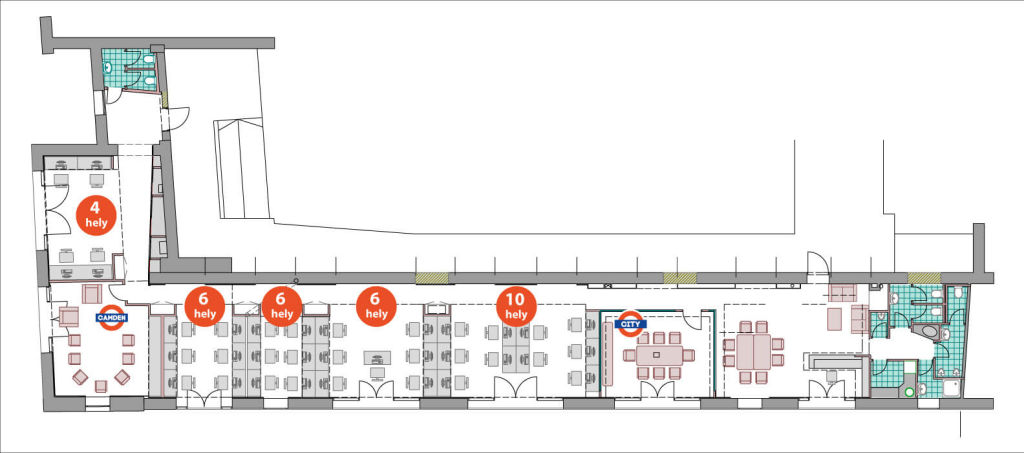 Terms and conditions for reservations, and rentals
If you would like to rent a room, desk, or office space you need to pay a reservation fee (at least 50%, optionally the full price)
Payment must be made at least 48 hours before the schedule
You can cancel your reservation: 2 weeks before the reservation, we can refund the full price, 1 week before 50% of the price. Unfortunately we can't refund anything within 48 hours of the reserved schedule.
In case you need to change the schedule please contact us more then 48 hours before the schedule.
Payment
Our bank account number is the following:
10300002-10448498-00014900
Name: Forest & Ray Dental Hungary Kft.
Send your company details to info@froffice.hu
Once the money arrived to our account we will send you an invoice (Free of VAT)
Back to our homepage: FRoffice Coworking – Office Space, Meeting room, Serviced Office, Training Room Rental