DISCOUNTS
Coworking desk (workstation with prepayment)
Workstation – 1 person 1 month
(5 full days)
(*3 months with prepayment)
30.990 Ft / month *
Workstation – 1 person 1 month
(7 full days, 7/24 entry)
(*3 months with prepayment)
38.990 Ft / month *
*All prices are exempt VAT, and are valid until updated
10% discount for meeting room rental
Coworking prices
Coworking desk (workstation)
Workstation – 1 person 4 hours a day
4.690 Ft
Workstation – 1 person full day
5.990 Ft
Rent a meeting room with 10% discount!
Coworking desk (workstation) packages
Workstation – 1 person 10 full days*
32.990 Ft
Workstation – 1 person 20 full days**
42.990 Ft
Rent a meeting room with 10% discount!
*Valid for 30 days
Coworking desk discounts
MONTHLY PASS
Workstation – 1 person 1 month
(7 days a week, 7/24 entry)
48.990 Ft / month
10% OFF of meeting room rental using any of the monthly options above
Meeting room prices
Meeting room (with big desk / mobile compact desk,
maximum 15 persons)
Meeting and/or training room rental
5.000 Ft / hour*
*Call us for personalized offer!
Call us for available catering options!
Coaching room prices
Coaching (therapy room), max 2 person without DISCOUNTS
(use a monthly pass for lower prices))
Coaching room
2.900 Ft / hour*
*For the first time. After the first visit we offer you several options for longer term rent.
Coaching (therapy room), max 2 person with DISCOUNTS
5 hours in 3 weeks
12.490 Ft
10 hours in 6 weeks
22.990 Ft
20 hours in 8 weeks
43.990 Ft
30 hours in 10 weeks
59.990 Ft
Office space rental / months (no VAT charged)
The open and separated parts of FRoffice are suitable for 30-40 persons.
You can find community area, 20+ workstations, 3 multifunctional meeting rooms and a separated coaching room (with own entry and toilet). We also have a small kitchen and clean restrooms.
We offer different size offices from 200.000 Ft/month (5 workspaces, plus 3 hours meeting room). For personal offer, call us!
*All prices are exempt VAT, and are valid until cancellation.
Important information about the rental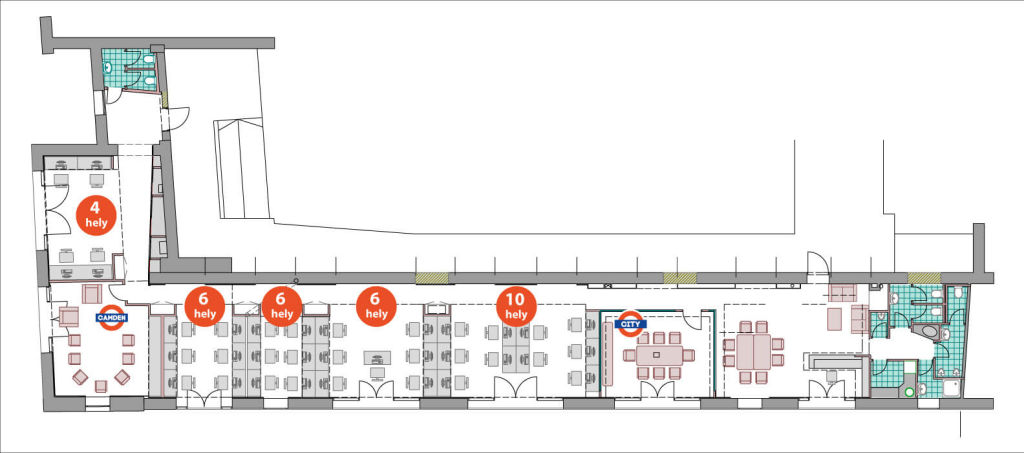 Terms and conditions for rental:
If you would like to rent a room, workstation, office you will need to pay 50% deposit in advance or optionall all in advance.
You will need to make the full payment 48 hours prior to your arrival.
You can cancel a reservation: we can refund the full payment 2 weeks before your reservation. We can refund 50% 1 week before your reservation. We can't refund 48 hours before the reservation
Payments:
You can wire the payment to the following account
Account number: 10300002-10448498-00014900
Payee: Forest & Ray Dental Hungary Kft
Please send us your invoice address to info@froffice.hu
After the payment we will send you an invoice without VAT.
Vissza a főoldalra: FRoffice Coworking – Közösségi Iroda, Tárgyaló, Coaching Szoba Bérlés
Back to our homepage: FRoffice Coworking – Office Space, Meeting room, Serviced Office, Training Room Rental